EXPERIENCE AND BUSINESS ADVICE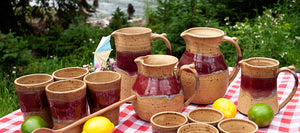 It was memories of the past that I experienced the other week. We are looking for ways to encourage our team who work in the Studio, so we decided to offer them the outside decks for each of them to set up their personal pottery. This way they could display their pots for the public to see and create a market for themselves with an opportunity to make a little extra money.
When I'm asked to give business advice, I try to encourage young potters to try the Farmer's Markets around the area in order to test the market for their pottery. I tell them to plan on being there for the long haul. My experience in doing the Farmer's Market and craft shows is that it takes time for people to appreciate your work before they start to buy. This is not always the case but generally what I have found. Even doing shows over a long period of time, I found sales increasing every year as people add to their sets. It is exciting to watch someone pick up your pots and make positive comments about how light the pot is or how much they like the glaze color, but then they set the pot down and go on. Then one day with the same pots and the same crowd they pick up your pot and make the same comments but this time they purchase your pot. It is such a sense of accomplishment to have made the pot and gone through the whole process when people actually like it well enough to put their money on the line. 
It was fulfilling to offer our team in the Studio that same opportunity. The six people who work in the Studio and who set up for the show have completely different techniques and styles, yet each sold something, and it was an encouragement for them to do something outside of what they do for Mountain Arts. I think that the Potter's Sale will become a yearly opportunity for them and for the public as well.
Leave a comment
Comments will be approved before showing up.