30 YEARS OF SHIPPING POTTERY WITH A 99% SUCCESS RATE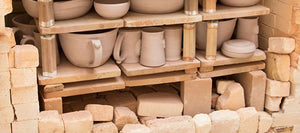 When we first began making pottery, we made everyone in our family Christmas presents of pottery. We gift wrapped each piece, put them in a large box with other gifts we were sending, and mailed them off. Nearly every piece was broken in transit. It was disappointing for everyone involved, especially as it was during the days we were hard pressed to pay the shipping charges, and my pottery making skills were minimal enough that to replace those pieces was difficult.
Needless to say, we have great empathy when someone ships something and it arrives broken. Because of our experience, we have learned a lot about shipping since those days.
We recently received an email from one of our customers about a piece of pottery they had shipped and which was broken when it reached its destination. They sent pictures of how they had packed the pot and stated they had packed it well. It was not the way we have learned to pack, and unfortunately wasn't adequate to insure the safety of their pottery.
After shipping pottery for over 30 years we have learned and developed a packing procedure that is about 99% fool proof. Our shippers pack in such a way that when they are done they are able to drop the package 5 feet onto a concrete floor without pottery breaking! Why be so extreme? Well, despite the fact that most people blame the delivery person, in reality the trip down the highway in trucks is where the most damage to packages occurs. According to UPS, they have video taped packages in trailers -- and the boxes can actually become airborne 3 feet in the air because some highways are so rough. That is the equivalent of dropping your package from waist level onto concrete.
Then there is also the issue of taking pottery home in your luggage. Recently, Jennie and I were waiting to board our flight to Phoenix and we were watching another plane make a quick turnaround. As they were unloading the baggage from the plane onto the conveyer belt, the luggage began to pile up, got overloaded, and a suitcase fell to the ground. We estimated that had to be about a 15-foot free fall. It would have needed a pretty special wrapping job for a piece of pottery to survive that kind of fall.
Because we know the hazards of transportation, we offer shipping from our store, with no intention to make money on shipping, but simply to recover our costs. Our shipping reputation is fairly good, and if something we shipped does end up getting broken, we simply get a replacement on the way. We feel that our job is not complete until your purchased pottery is safely in your home.
Leave a comment
Comments will be approved before showing up.