Tips for Hosting a Potluck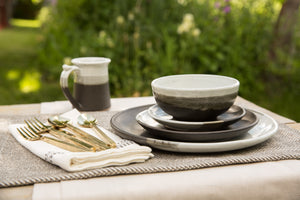 It's finally summer and that time of year when all of our friends and family start to gather around for those outdoor get-togethers where we share our favorite recipes, funny stories and making great memories together.
If you are hosting a potluck there's a decent amount of planning and coordination that goes into it. You have to make sure that everyone doesn't bring a baguette or box of cookies and that people with diet restrictions will also be able to enjoy the meal.  
Here are a few things to keep in mind to ensure your potluck is a real smash:
Main Entrée
As the host, I usually take on at least one of the main entrées. Depending on the amount of people attending, you might need more than one entrée.  My rule of thumb is per 6-8 people attending you'll need 1 entrée.
It's always good to have an assortment like a meat dish, a large casserole type dish, and a dish for those who have dietary restrictions (gluten or dairy is the most common).
Photo from The Coffee Pot Bakery Menu 
Salads
When it comes to side dishes, make sure there are several different types of salads available; Green, pasta, potato and fruit salads are all great choices. Once again, for each group of 6-8 people, you want one large side salad.
Side Dishes
Next, you can delegate the other side dishes. A few ideas you can offer are deviled eggs, chip and dips, baked beans, roasted veggies, dessert and ask at least a few of them to also bring drinks. Once all of that is covered, contact your busiest friend who's been asking what they can bring on their way after work and give them the easy baguette and/or rolls to bring.
*Check out these delicious fresh or take and bake pie options!
Setting the Stage
You'll want to make sure you have a setup that will display the food in a beautiful and effective way so that no dish gets left behind. One way to make sure every dish is seen and appreciated is to put various levels of boxes and/or stands beneath the tablecloth so that you can stagger and control the height of each dish depending on it's shape and size.
It's always important to add fun details around the table to set the ambiance. Don't hesitate to whip out your favorite pitchers and serving bowls to give a little extra color and pop to the spread. Put flowers around in sturdy vases and always use fun table clothes that accent the esthetic you are going for.
 Pictured above; Our chip dip and famous salsa recipe!
As tempting as it can be to use paper plates and plastic cutlery, no one enjoys trying to cut into their meatballs with a bendy plastic fork on an even more bendy paper plate. If you can, use real plates and flatware. It may seem like extra effort but this is a potluck! And in the spirit of such a cooperative event, you can always ask your family and friends to help with cleanup.
There are probably over a hundred ways to make a potluck special and unique and a lot of fun for your group of friends and family, but these are just few of the check points I put on my list whenever I host a potluck.
If you are new to hosting or in need of some fresh tips, I hope this helps!
-Kayla Marie
Retail Store Manager
Mountain Arts Pottery
Leave a comment
Comments will be approved before showing up.