A New Glaze Combination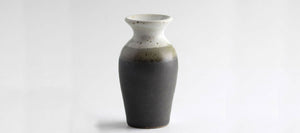 We at Mountain Arts Pottery are constantly trying to find different glaze combinations as well as creative pottery shapes to add interest, newness and freshness to our displays.
Finding a new glaze and learning how to fire it, then combining it with the different glazes that we are already using is not an easy task. 
The process begins by solidifying a glaze formula that has the colors we are looking for and then learning how to fire it. Is it a runny glaze or a semi matte? Just a few degrees in the firing temperature can cause a significant fluctuation in how the final product turns out. 
Then there is the process of finding the other colors that the new glaze fits well with. We begin by selecting how the over dip will look on a particular pot. This is determined by which glaze is dipped on top of the other, so you start out with two choices. Dipping a white over a black turns out different than dipping a black over white. You have to test each possibility and then get consensus from everyone involved, listening to their opinion. Of course there are as many opinions as the number of people giving them! In the end, after we have listened to everyone, someone will have the final say on the glaze combination we are going to use. 
Our newest glaze combination is a shiny white glaze over our popular charcoal. To eliminate the stress of choosing a name for it, it is simply called Charcoal White. We are thrilled with the way it has turned out, and the many samples that Tim, our Studio Manager, has put through the kiln have paid off with a clean, contemporary black and white product. Nick, our Store Manager, has just put together a nice display of pottery in this glaze. The next time you are in the store take a few moments and let us know what you think.
Leave a comment
Comments will be approved before showing up.