CELEBRATING 35 YEARS IN 2015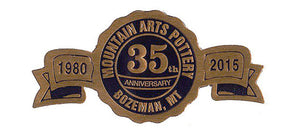 Mountain Arts Pottery is celebrating a milestone in 2015. It was 35 years ago, after a recession put the Lockies' excavating company out of business, that Dave and Jennie Lockie decided to develop Dave's hobby of making hand thrown pottery into a profession.

As a business owner, the father of four small children, and a leader in his community, Dave had little time to call his own, so Jennie gifted him with pottery lessons at a local arts center. When it became apparent that he was good with his hands, Dave bought a potter's wheel at a garage sale and set up a room in the Lockie home where he first threw pottery. A friend who was also a potter fired Dave's pots for him and encouraged the Lockies to consider making pottery a full time occupation.

Lockie's first big break came when Dave took some of his sample pots to Yellowstone National Park and returned home with a contract for their summer season. Dave had never fired a kiln. In fact, he didn't even own one, so he bought a book about how to build a kiln (remember, this was before Google!), poured a slab in his backyard and built his first kiln that was to last for 25 years.

Dave and Jennie worked together through those early years, taking their four kids with them to art shows, fairs and markets all across the country. When they wondered where the next meal was going to come from, their faith in God sustained them. Jennie took many "ruined" pots to the local Farmer's Market and sold them to pay for more clay for the next weeks' business, and to put food on the table.

There were rough times in those first years making a living at an occupation completely different from the excavating business. After years of hard work, Dave, who was raised on a ranch in Eastern Montana, finally realized that creating art is a legitimate line of work. It was those early years of innovation and perseverance, however, which helped the Lockies achieve a business that is still thriving 35 years later.

After taking their pottery on the road for decades, the Lockies realized that their age and David's progressing back problems necessitated a change in their business model. They began looking for places to open a retail store, and after a years' search, they found a little circa 1930 log cabin along the highway en route to the Big Sky recreational area and the busiest entrance to Yellowstone National Park.

Mountain Arts Pottery opened its retail store in 2003 and moved their studio from the Lockies' backyard to the converted garage on their new property. Eventually they added on, enlarged the studio, and created a shipping area.

Both Dave and Jennie loved baking and competed in the local Winter Fair baking competitions. Jennie decided that if she could bake a few cinnamon rolls and sell a few cups of coffee every day, she could pay the utility bill and help with expenses. That beginning launched The Coffee Pot Bakery Café, which shares the log cabin that houses Mountain Arts, and celebrates its 11th year in business. From cinnamon rolls and coffee, the Coffee Pot has developed into a full scale cafe featuring home made soups, pastries, pies, and entrees.

Thirty-five years have flown by. It would be impossible to express the value of the encouragement and loyalty displayed by our wonderful customers who frequent the Coffee Pot and Mountain Arts Pottery and who bring their friends and family in when they come to visit. The other factor contributing to the success of the two businesses is the amazing group of team members who work with the Lockies. They bring their own skill sets in baking, serving, making pottery, and keeping the kitchen sparkling clean.

There is a beautiful mantle in the old log cabin inscribed with the Bible verse from Proverbs 19:21 which reads, "Many are the plans in a man's heart, but it is the Lord's purpose that prevails." Dave and Jennie are grateful that the Lord's purpose for their business has succeeded and they acknowledge that the credit fully belongs to Him.

Join us for an Anniversary Open House celebration at our store location in Bozeman Wednesday, August 19th. We will have refreshments and live music throughout the day.

For everyone who can't be in Bozeman August 19th, we don't want you miss out. Stop by the the online store and enjoy 20% OFF all day. Use promo code "ANNIVERSARY" at check out. Valid 8/18/15 thru midnight 8/19/15.
Leave a comment
Comments will be approved before showing up.