EVERY GOOD AND PERFECT GIFT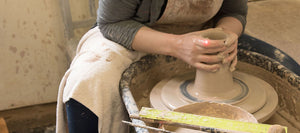 "Every good and perfect gift comes from above." James 1:17
I would like to introduce you, the reader, to some of the staff of the studio.
For twenty years I created every pot that was made at Mountain Arts Pottery. For most of those years, I put handles on every mug, glazed every piece, loaded each pot into the kiln and fired them. After the pottery was completed, I became the one-man shipping department, sending the pottery UPS or loading it up for art shows.
In August 2005 we were invited to display our Blessing Jar in a catalog company called "Best to You". They anticipated selling between 125-150 units by Christmas. We agreed and in October the orders started coming in …..and in….and really in. I was swamped and I couldn't keep up. My pottery assistant was Jennie Blair, who until this time, only processed the pots that I had thrown. She was an accomplished thrower, having received her BFA in Studio Art from Plymouth State College and apprenticing under several other potters. What I didn't realize until she was given the chance, was just how capable she was. Today, Jennie is a full time thrower as well as the pottery studio manager.
Over the years the company grew and I found myself more often in a management position and less often sitting at the wheel. At this time, Chris Mastro was hired as a thrower. Chris earned his BA in Studio Art at the University of Vermont and his pottery style fit nicely with Mountain Arts Pottery.
Today, I only throw pottery for someone who wants my signature pottery. Jennie and Chris are
nearly
able to keep up with the needs of the business....
nearly.
This year, with continued business growth and some personal changes, we realized that a third thrower was needed. Merideth Bird, who recently earned her BFA in Ceramics at MSU-Bozeman, approached us about an apprenticeship. Her pottery style compliments our work and she is now working on her production speed. We have rearranged the studio to accommodate three potter's wheels and a trimming wheel. It's snug but it works!
God has blessed us with a great line up of potters. If you are in Bozeman, stop by and tour our studio, meet the potters and watch them work.
Leave a comment
Comments will be approved before showing up.