FAITHFUL IN LITTLE THINGS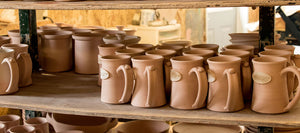 "If you are faithful in little things, you will be faithful in large ones."
Luke 16:10

Earlier, I introduced readers to some of the staff of the pottery studio, the throwers.  The throwers create the pottery at the wheel, but it is the processors who complete the job. Today I would like to introduce you to this part of the studio team.   
 
Sarah Clark came to us almost a year ago from northern Montana.  She has an interest and desire to work with clay.  She oversees production from sales order to shipping. This takes a tremendous amount of organizational skills. We offer 100 different hand thrown pottery items and we have nine glaze combinations.  We have a retail store, a website, and a number of wholesale clients from which sales orders are generated.  The challenge for this position is timely shipments.  Sarah does a great job.
 
Richard Gale is one of our processors.  His primary job is to glaze enough pottery to be able to fire the high fire kiln up to three times a week, which is maximum production for our studio.  Richard is also responsible for the proper mixture of our custom pottery glaze colors and does this with tremendous accuracy.  
 
Charlotte Stansberry is our other processor.  She makes it possible for us to have a third kiln firing each week by single-handedly unloading and reloading the bisque kiln and high fire kiln on the weekends.  This process is repeated on Tuesday and Thursday resulting in three high fires per week.  When the kilns are firing, Charlotte can be found doing a number of processes including:  putting handles on mugs, stamping out medallions, and pressing clay through the slab roller.  We appreciate her dedication.
 
The last person on the team, but not the least important, is our shipper Andrew Keena.  He packs our pottery so that it reaches its destination safely.  We ship between 30-60 boxes of pottery each week with UPS.  We have very little breakage.  Recently we sold a handmade pottery platter that was seen on a Facebook post. The customer complimented us on the packaging stating "I think I could have dropped it out of an airplane at 30,000 feet and it would have survived."
 
Way to go, team. 

Many Blessings,
Dave Lockie
Leave a comment
Comments will be approved before showing up.