FRIDAY IS PIE DAY!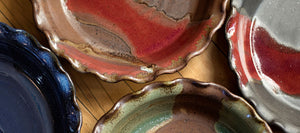 "Take Fine Flour and Bake...." Leviticus 24:5

When we first opened The Coffee Pot Bakery Cafe at Mountain Arts Pottery, traffic and customers were few and far between. I was the sole baker and it was a good day if we sold a half dozen Cinnamon Rolls, two Caramel Rolls, a half dozen cookies, and a pot of coffee. Dave and I weren't looking to open a second business; we just thought some treats would be nice for the pottery customers and maybe the proceeds could pay the utility bill.

Eventually word got out that the treats were fresh and homemade. I guess "if you bake it, they will come!" Business picked up to the point that I couldn't keep up. I hired a teenager, Allie Bell Donaldson, whom I knew to be a good baker. She and I had competed in the Winter Fair, she won a lot of ribbons for baked goods and she knew how to make a great pie crust. In addition to her delightful personality, Allie immediately added her signature bakery item: Pies.

We wanted to sell everything baked-fresh-daily and we weren't busy enough to support baking pies everyday. I love words so I deemed "Friday is Pie Day" as our slogan and we ran a weekly ad in the Bozeman Daily Chronicle. My sister-in-law, Kathy Lockie, made a darling hand embroidered sign that read, "Friday is Pie Day", and we displayed it on our bakery wall. As our reputation grew, we attracted more customers, added another baker, and pie became one of the staples of our business. Our pies were selling out by early Friday morning. Eventually we began making pie every day and a lot of it! The ad in the paper was edited to read, "Everyday is Pie Day". Jingles stick, however, and five years after we started making pie everyday, I still hear people say, "Tomorrow is Friday. What kind of pies are you serving?"

Come on out to The Coffee Pot Bakery Cafe, where "Every Day is Pie Day!"

Many Blessings,
Jennie Lockie
Leave a comment
Comments will be approved before showing up.