Growing Pains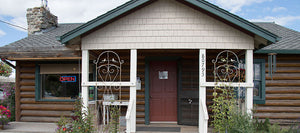 I was invited to speak at the Montana State University School of Business in a class on being an entrepreneur, and was asked to share how we started our business, Mountain Arts Pottery. Mountain Arts is a hand thrown pottery company that we started in 1980 after losing an excavating business. In the 80s, we went through an economic downturn and the housing market disappeared for a few years so we started a pottery business. 
After I had given my presentation I opened it up for questions. The first question out of the chute was not about our business plan or how we started but was, "I've been to your place; when are you going to expand your seating?" I explained that during the good weather we have an additional 50 seats outside, but to enlarge our 26 person indoor seating area was going to create a new problem called a parking garage and I didn't exactly know where to build it! We have a cozy, warm atmosphere in our circa 1930s log building, but the constant tension in many businesses is how to maximize our sales and customer service while utilizing our space and the ambiance we've created.
Over the years we have added an additional 30 parking places out behind the store and studio. Customers who park in back can enter the store through the back patio door where our landscaper, Kristy, has created a beautiful seating area full of flowers. With our front lot parking and the 30 spaces out back, there is plenty of parking. Now all we need to do is figure out how to increase our indoor seating during the winter months!
Leave a comment
Comments will be approved before showing up.