ONE SWEET RELATIONSHIP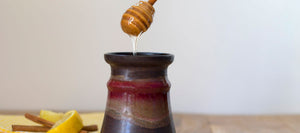 Having been in the pottery business for over 35 years, we count the business relationships we've established among our greatest treasures. At one point or another during our journey, it's safe to say we've shipped pottery to all 50 states…adding clients, and making friendships along the way. 
One SWEET relationship (literally) we particularly enjoy is our friendship with Haefeli's Honey Farm in Del Norte, Colorado. Haefeli's Honey Farm is a family owned business that has been operated by the Haefeli family for over 100 years. Located in Colorado's San Luis Valley, home of the Great Sand Dunes National Park, Haefeli's offers a great selection of world famous raw honey, tea, beeswax candles and other fine gifts, including Mountain Arts Pottery's hand thrown Honey Pots. To learn more about their history, or shop their products (including our Honey Pots) online, visit 
haefelihoney.com
.
Haeffeli's Honey + hand thrown Mountain Arts Pottery Honey Pots = ONE SWEET PAIRING. 
Did we mention our Honey Pots are 20% off during the month of March? Shop our great in-store selection or shop 
Honey Pots
 online.
Leave a comment
Comments will be approved before showing up.