SHOULD WE BE BLESSED WITH LONGEVITY?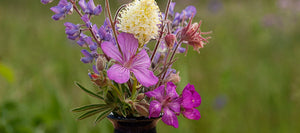 Getting older and the challenges it brings are some of the things we have to deal with. Aging is one of those things in life that can be a difficulty as well as a joy. The joy aspect is that often we have fewer responsibilities, more time on our hands to do the things in life we have had to park in order to raise a family, make a living and engage in community service. Ideally, we don't have to work as hard as we had to in the past.

The hard part might be that our health isn't a good as it was. We might not be as stable on our feet. We aren't as strong, so we might have to depend on someone else to take a lid off of a jar that we would have had no trouble with in the past. Tasks that we used to do ourselves, we now we hire to get done. The biggest challenge is to take on these changes and to do it with a good attitude.

All of this is a prelude to our most recent visit to Scottsdale. Jennie and I went to Arizona to babysit our four-year old grand daughter and to find a replacement car as our van lost the transmission and was old enough not to be worth repairing. It was much more fun to babysit than it was to go through the hassle of finding a dependable car, but both tasks were accomplished. The last day we were there I had gone to the pool where I walk, and coming back from the pool, I dragged my big toe and fell onto the sidewalk. I gouged my forehead above my eye. Everything was ok except the bleeding. It's true, head wounds bleed. A lot. I had covered the gash with my pool towel to control the bleeding and went to our condo where Jennie was. Since the gash was covered, she didn't panic when I told her I had fallen, but she called our son who came right over. I tried to convince everyone that I didn't need stitches, as I always hated the thought of being sewn up while I'm awake, but my pleading fell on deaf ears.

When we got to the ER and we were with the doctor, I explained to him that I really didn't think that I needed stitches. He felt differently and said as he was cleaning me up, "It would heal, eventually without stitches, but the fact that I can see your skull probably means that it would be wise to sew you up." The battle was lost and I added 11 stitches to my war chest.

I'm sure that I am just beginning to feel some of the pitfalls of "The Golden Years", but I choose to be thankful and to ask for God to help me to have a good attitude knowing that there are so many who struggle much more than I with my light and momentary tribulations.
Leave a comment
Comments will be approved before showing up.