Our First Year in Review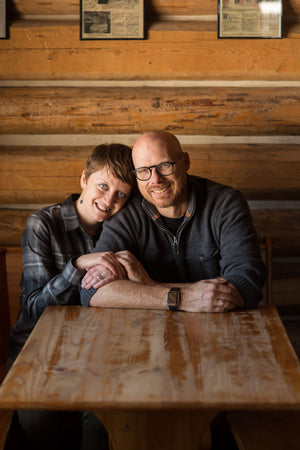 What a year!  We are so grateful to have made it through our first year as owners with more lessons and growth than we could have anticipated.  It's been a wonderful challenge and an even greater opportunity and we could not be more thankful for it all.
We will be the first to admit that stepping into the role of "new owners" came along with a healthy dose of intimidation.  Knowing how loved and respected Josh's parents were with our deep appreciation for the culture they had built, we wondered if we would be able to sufficiently fill the shoes, so to speak.
There was a particular moment when it hit us, sometime in the spring, where we thought, "Wow!  This is awesome. We have such a great team and community around us who are all excited about where we are going and we feel so fortunate."
The greatest highlight from last year was getting to know our loyal customer base, whether it's those who visit us daily or once a year, getting to know those who have supported Mountain Arts Pottery for so many years has been a true pleasure for us.  If it weren't for them, none of us would be here!
In reflecting, we ask ourselves what we learned this year that was the most valuable lesson and it'd probably be the practice of grace with ourselves.  We constantly have to learn how to do new things that we have never done before and it has required a tremendous amount of grace to be OK with imperfection.  This has been such a valuable test because we feel like offering grace to ourselves has allowed us to feel even deeper appreciation for our team here; knowing that we are all in this together and mistakes are inevitable when you are learning something new.
With our first year under our belts, we are excitedly looking forward to seeing what this year has in store!
Thank you so much for being here with us,
-Josh and Kathy
and The Mountain Arts and Coffee Pot Family
5 Responses
Leave a comment
Comments will be approved before showing up.