Wabi-Sabi and the Beauty of Imperfections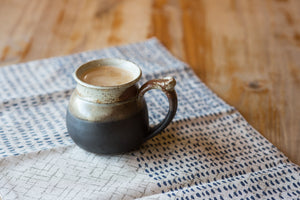 Wabi-Sabi; Imperfect, Impermanent and Incomplete.
From the perspective of a pottery studio, imperfections, inconsistencies and knowing the fragility of what we make is just part of the territory. It takes years to get to a point of near consistency with shapes and colors and even so, "near" is the key word here. There are so many contributing factors that play a part in the outcome of any piece of pottery! Perfection is, in most cases, impossible and if we grasp too hard to it to define our finishing point, then we could overwork the project and risk destroying what would have been beautiful when it was at a perfectly imperfect place.
 In Japan there is a traditional concept surrounding esthetics called "Wabi-Sabi". It holds a perspective towards imperfections and transience as something that adds beauty as opposed to detracting from it. Many have said that perfection is an illusion and sameness is boring – perhaps they too value the fundamentals of Wabi-Sabi.
The word "Wabi" expresses the beauty found in pure, simple and rustic designs as well as something that has proof that it is "made by the hand of God or man". The word "Sabi" is the beauty in age or ware and tare, i.e. the aging of copper, the patina on a terracotta pot or wrinkles on a face.
After working closely with pottery every day we see the unplanned drips in the glaze or a slight differ in the shape as a testament to our authenticity as artists who make everything with our own hands. Some of the pieces we spend hours creating might go home with a wonderful person and then be the unlucky victim of a classic case of the butterfingers and the life of the piece would be short lived– and that's OK too! This is all encompassed in the perspective of Wabi-Sabi.
The aesthetic principles of Wabi-Sabi were hugely implemented in the Japanese pottery world and are still acknowledged in their way of life. As we all know, there are countless lessons found in the art of pottery but I have to say, one that directly practices the adoration of age, the embrace of imperfections and celebration of impermanence has got to be one of my favorites so far. It's obvious how this is relevant to living a wholesome and fulfilling life.
So there you have it! If you have never heard of this concept before, I hope it brings an enriching perspective to your day and draws your eyes more to the, sometimes unsuspecting, beauty that is all around us.
Since we do, of course, try to keep a certain level of consistency in our products, we now have a section in the store of all of our more unique pieces that don't quite fit into our other lines. They are all unique and one of a kind so we only offer this in our store - a special nook we call the "Finder's Keepers Corner" and you are sure to see some real Wabi-Sabi there. Come check it out!
Kayla Marie
Retail Store Manager
Mountain Arts Pottery 
2 Responses
Leave a comment
Comments will be approved before showing up.